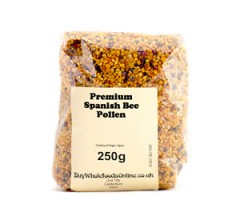 Click on the picture to enlarge
Spanish Bee Pollen Grains 250g
Bee pollen contains trace amounts of minerals and vitamins and is very high in protein and carbohydrates.
Enjoy sprinkled on food, in smoothies and yoghurts or with fruit.
Adding your product to the basket...

We are just adding your product to your shopping basket at our main site Buy Whole Foods Online.

In just a moment, you will be redirected to Buy Whole Foods Online where you can continue with your purchase.