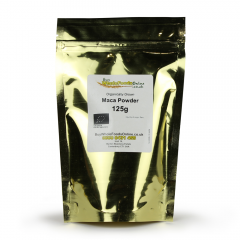 Click on the picture to enlarge
Organic Maca Powder 125g
Native to the Peruvian central Andes, and used from pre Incan times for both nutritional and medicinal purposes, maca is a tuberous root vegetable resembling a turnip which is naturally processed into a flour like powder. It is richly endowed with essential nutrients, renowned for its reputed fertility enhancing properties and considered to be beneficial for hormonal balancing.
Sprinkle liberally on muesli, in smoothies or add to other raw / home cooking recipes.
Our maca powder is a mixture of three different types of maca root: 70% yellow maca 15% red maca 15% black maca
Adding your product to the basket...

We are just adding your product to your shopping basket at our main site Buy Whole Foods Online.

In just a moment, you will be redirected to Buy Whole Foods Online where you can continue with your purchase.