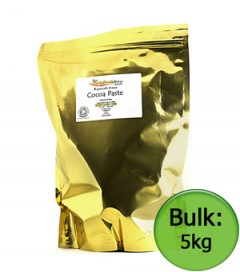 Click on the picture to enlarge
Organic Cocoa Paste (Liquor) 5kg
Cocoa paste, or liquor, is obtained when the cocoa beans are finely ground into a liquid which once solidified, contains cocoa solids and butter in equal proportions. It is one of the main ingredients in the production of chocolate. This high quality paste is sourced from an ethical cooperative in Peru. Grate and sprinkle, or melt on to all your favourite home made chocolate recipes.
Adding your product to the basket...

We are just adding your product to your shopping basket at our main site Buy Whole Foods Online.

In just a moment, you will be redirected to Buy Whole Foods Online where you can continue with your purchase.