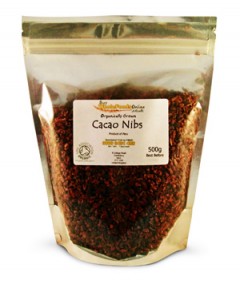 Click on the picture to enlarge
Organic Cacao Nibs 500g
Cocoa beans are white when they are harvested (cocoa is the common name for  cacao). They are first fermented which gives them their dark colour, then the beans have been nibbed (chopped into small pieces). A great product.
Adding your product to the basket...

We are just adding your product to your shopping basket at our main site Buy Whole Foods Online.

In just a moment, you will be redirected to Buy Whole Foods Online where you can continue with your purchase.