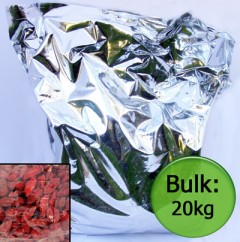 Click on the picture to enlarge
Ningxia Goji Berries 20kg
Goji berries are incredibly good for your health. They contain unique polysaccharides and very high levels of antioxidants.
Tip: These can be sticky so if you would prefer them to break apart more easily, simply keep them in the fridge.
Standard Price:
£299.40
,
save: 10%
Our Price:
£270.00
& this item Delivered FREE in UK
Adding your product to the basket...

We are just adding your product to your shopping basket at our main site Buy Whole Foods Online.

In just a moment, you will be redirected to Buy Whole Foods Online where you can continue with your purchase.