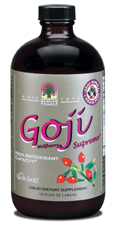 Click on the picture to enlarge
Nature's Answer Goji Liquid Dietary Supplement 480ml
The Goji berry, also know as wolfberry, is well known for being one of nature's most nutrient rich foods which consists of a vast array of vitamins, minerals, amino acids and essential fatty acids; all of which are essential in maintaining a healthy, well balanced body. The rich nutritious content of Goji makes this fruit a powerful source of antioxidants, hence its association with the term 'superfood'. Science has isolated at least four unique polysaccharides, which are phytonutrient compounds that 'amplify signals' between cells, and improve immune defense.
ORAC Super 7
High Antioxidant Capacity*
With Quick-Sorb
Liquid Dietary Supplement
Suggested use: Take 2 Tablespoons in water or juice.
Our Price:
£12.49
& this item Delivered FREE in UK
Adding your product to the basket...

We are just adding your product to your shopping basket at our main site Buy Whole Foods Online.

In just a moment, you will be redirected to Buy Whole Foods Online where you can continue with your purchase.