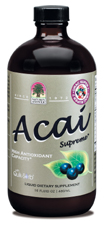 Click on the picture to enlarge
Nature's Answer Acai Liquid Dietary Supplement 480ml
Acai Berry has been used for thousands of years by the natives of the Brazilian rain forests. They believe that acai has healing powers. Modern science has discovered many nutrients in the acai berry, including a high concentration of antioxidants such as Vitamin C and E, along with Vitamin B1 (Thiamine), Vitamin B2 (Riboflavin), Vitamin B3 (Niacin), iron, potassium, phosphorus and calcium.
ORAC Super 7
High Antioxidant Capacity*
With Quick-Sorb
Liquid Dietary Supplement
ORAC stand for "Oxygen Radical Absorbance Capacity"
Suggested use: Take 2 Tablespoons in water or juice.
Our Price:
£12.49
& this item Delivered FREE in UK
Adding your product to the basket...

We are just adding your product to your shopping basket at our main site Buy Whole Foods Online.

In just a moment, you will be redirected to Buy Whole Foods Online where you can continue with your purchase.